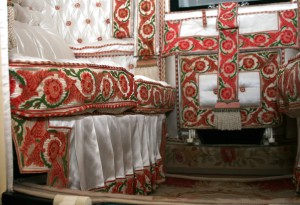 We create all kinds of trimmings using materials such as leather, woollen cloth, silk, silk and cotton, silk satin, velvet, corduroy, among others, and techniques such as capitonné, fake capitonné, checked tissues with folds, fake checked, sewn checked, among others.
Regarding the decoration, we specialize in haberdashery, passementerie, fringes, tassels, equalised parts, etc.
The new projects on trimming, as well as the restoration ones, are based on original forms and techniques. To repair gaps in tissue restoration work, we make exact reproductions after a preliminary analysis of the original tissue using the same material, numbers of threads, patterns and colour range.